All of the jams and jellies made at ReMARKable Farms come from fruit/flowers that we grow (without chemicals) or fruit that we have foraged.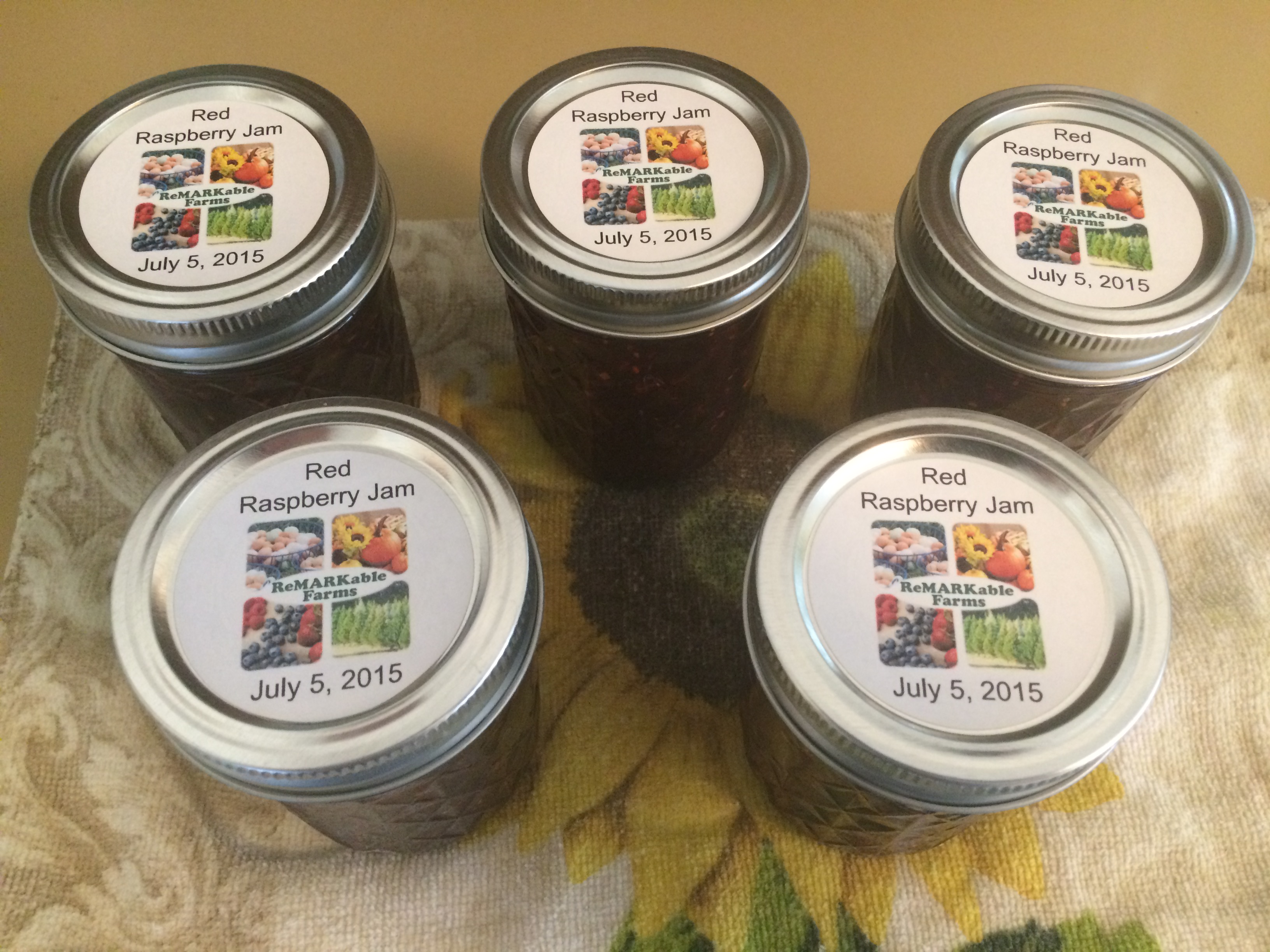 Currently, we grow rhubarb, red raspberries, red onions, apples, plums, and red sunflowers. In the summer, we pick wild blackberries and forage for huckleberries to make jams.  In the fall, we gather pears from the neighbors property and one of Mark's egg customers lets us pick their grapes. I am continuing to expand the preserve selections. This past year (2021), I had an excess of cantaloupe and watermelon so I experimented with making some Basil Cantaloupe Jam and Watermelon Jelly!
We also produce a couple of low sugar jams. We currently have low sugar raspberry and low sugar blackberry.
If you bring us a 2, 4, or 8 ounce jelly jar, we will take $1 off the purchase of your next jar of jam or jelly!
Uses for jams and jellies (it's not just for bread)
Glaze for Meat or Root Vegetables
Put equal parts jelly and water in a saucepan over low heat. Whisk until dissolved. Brush onto meat or vegetables before roasting.
Quick Frosting
Combine 1 cup cream cheese with ½ cup jam in a food processor. Add a little milk, if too thick. Add coconut, if you like. Spread on banana, zucchini, carrot or other quick bread or muffins.
Asian-style Dipping Sauce
Whisk together equal parts jelly or jam, rice vinegar and soy sauce. Use as a dipping sauce for wontons, spring rolls, or tempura.
Thumbprint Cookies
Start with any basic sugar or drop cookie recipe. Make a thumbprint in the center of each cooking and fill with a dollop of jam before baking.
Other Ideas:
• Stir into plain yogurt or applesauce (one of our favorite ways to use jam)
• Put on hot cereal
• Use as a filling between layered cakes
• Put in a grilled cheese sandwich – delicious!
• Spread in a crepe
• Warm and use as an ice cream topping
• Swirl into the top of a cheesecake before baking (one of my favorites!)