Let me start at the beginning…
Why ReMARKable Farms? Because of my amazing special needs son, Mark. Hi! My name is Denise Wetzel and I live near Moscow, Idaho with my husband, Henry and our two boys, Mark and Joshua. Let me tell you a little bit about my son, Mark, and why we decided to start a farm together…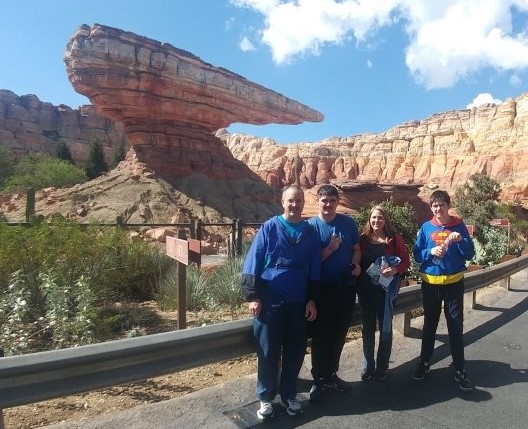 Mark was born January 11, 2001. As Mark developed into a toddler, we noticed he was not keeping up with his peers in meeting developmental milestones. The most noticeable difference was in his language. I remember when Mark was about to turn 2 years old and we were visiting with our toddler play group at a friends house. One of the other children said, "We are having pie a la mode!" I was stunned. Mark could not even say "mom." His first word was cheese (and he still loves cheese and requests it often).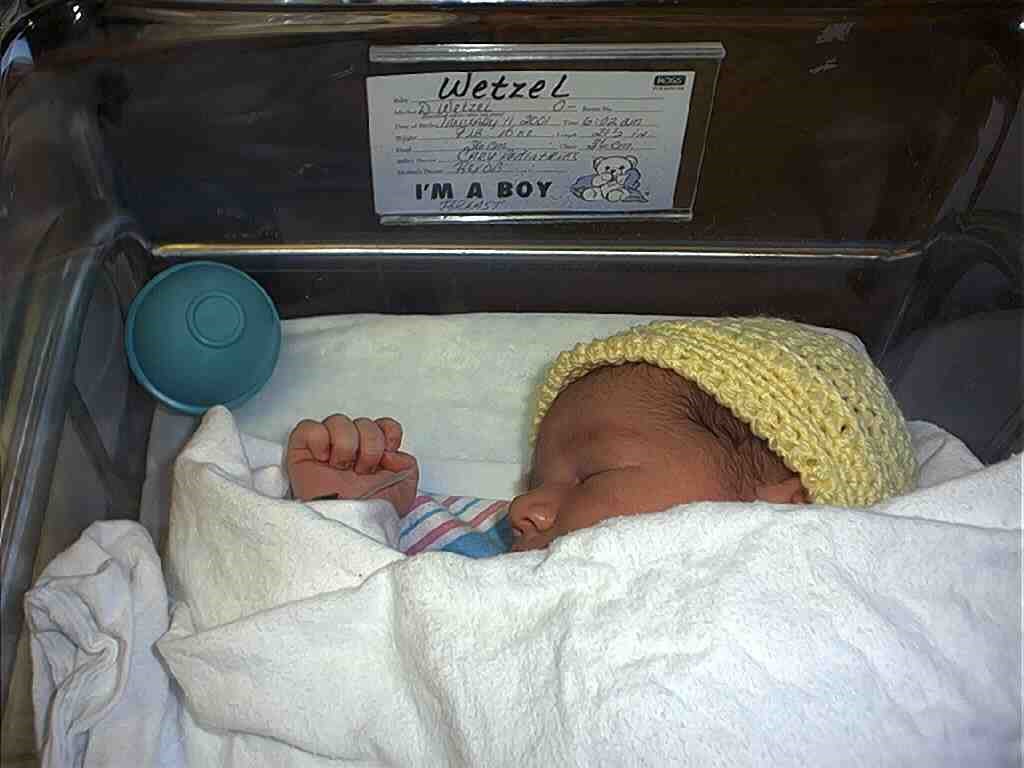 Mark was in speech therapy at the time. I had read an article in a magazine about autism and brought it to our next appointment to show to the speech therapist. She confirmed my suspicious that something else besides just a speech delay was happening. Lucky for us…there was a psychologist at the office where the speech therapist worked. I made an appointment. After performing a series of language and behavioral tests, the psychologist said Mark met the criteria for autism. I didn't even really know what autism was. I started reading and learning.
Fast forward about 10 years…
I had the opportunity to attend an intensive training program for parents of children with disabilities provided by the Idaho Council on Developmental Disabilities. This program lasted 9 months and we spent one weekend a month taking a "deep dive" into a specific topic of disability. For example, one weekend was dedicated to the history of disability, another to education and so on.
The weekend dedicated to disability employment really caught my attention. The speaker provided a lot of examples of people with significant physical and intellectual disabilities who were working in the community. I guess it planted a "weed" seed inside me (more about that under the ReMARKable Farms tab). Over the next few years, I learned more about Customized and Self Employment for individuals with disabilities. I thought about Mark and tried to find a way to incorporate his interests and strengths into a career path.
Making Lemonade…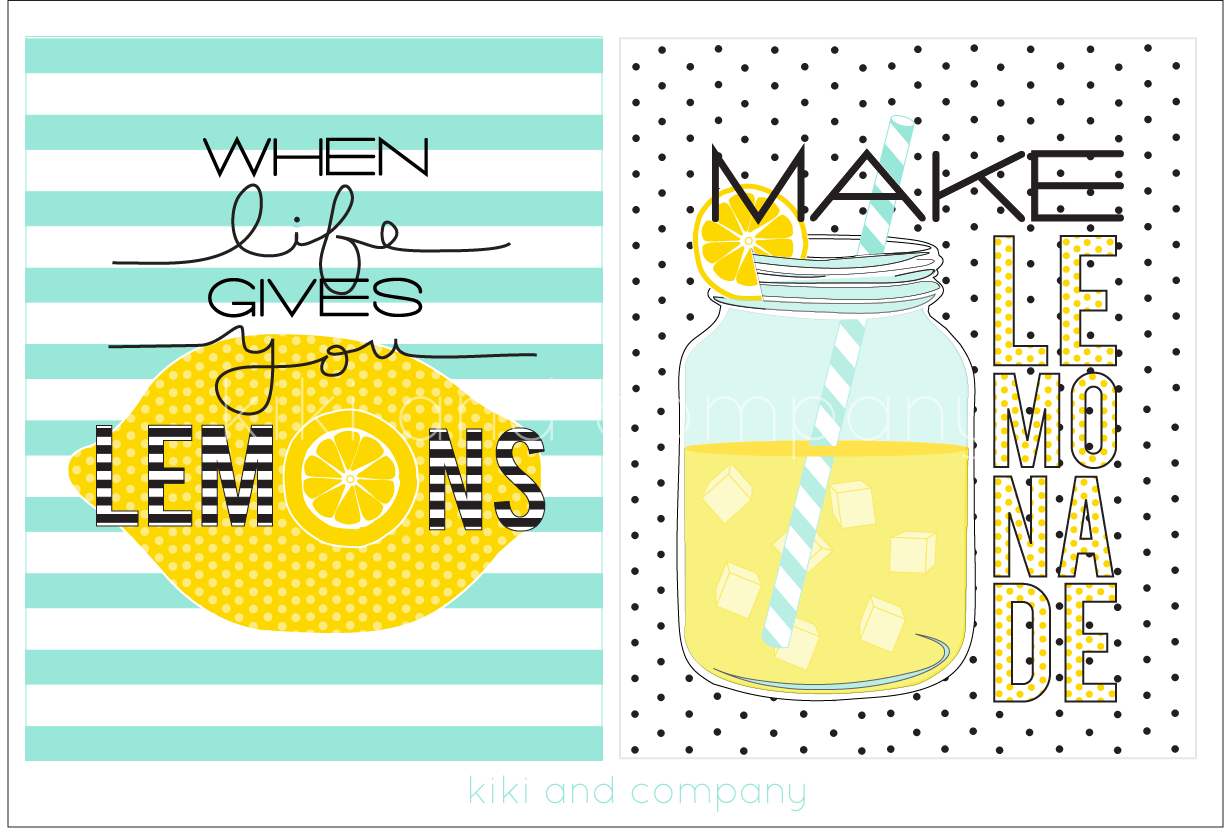 One day, I was walking down the steps of our rental house and I was thinking about Mark. He loves to be outside. He can follow simple instructions, especially for tasks that have a clear beginning and end. At the time, Mark was responsible for feeding the cat and dog. This is something he could do independently and actually seemed to enjoy. I wondered if his ability to carry out basic tasks could be applied to future employment. Not sure why, but I started thinking about chickens. It is relatively simple to feed and water chickens and they would be outside. Collecting, washing, and packaging eggs are simple tasks that can be taught. There is a clear beginning and end to each task. Of course the bonus is that you have a product to sell that almost everyone needs. Another big bonus is that the city of Moscow has a thriving Farmer's Market. This meant there would be a good outlet for his product.

At the time, we were living in a rental house in Moscow. I started researching about sustainable farming and we started looking for a home with some acreage for the chickens. Mark's egg business is a sole proprietorship. It will be called ReMARKable Eggs.
I know this might be a little confusing. ReMARKable Farms is my venture with growing sunflowers and jams/jellies. ReMARKable Farms may expand in the future but right now (March 2019), all efforts are being made to get Mark's business started. I will be providing support to Mark's egg business so that he can be successful.
Timeline
March 2015 Began documenting our farming journey in a blog
April 2015 Planted first seeds for growing sunflowers and made jams and jellies to sell at the Moscow Farmer's market as part of ReMARKable Farms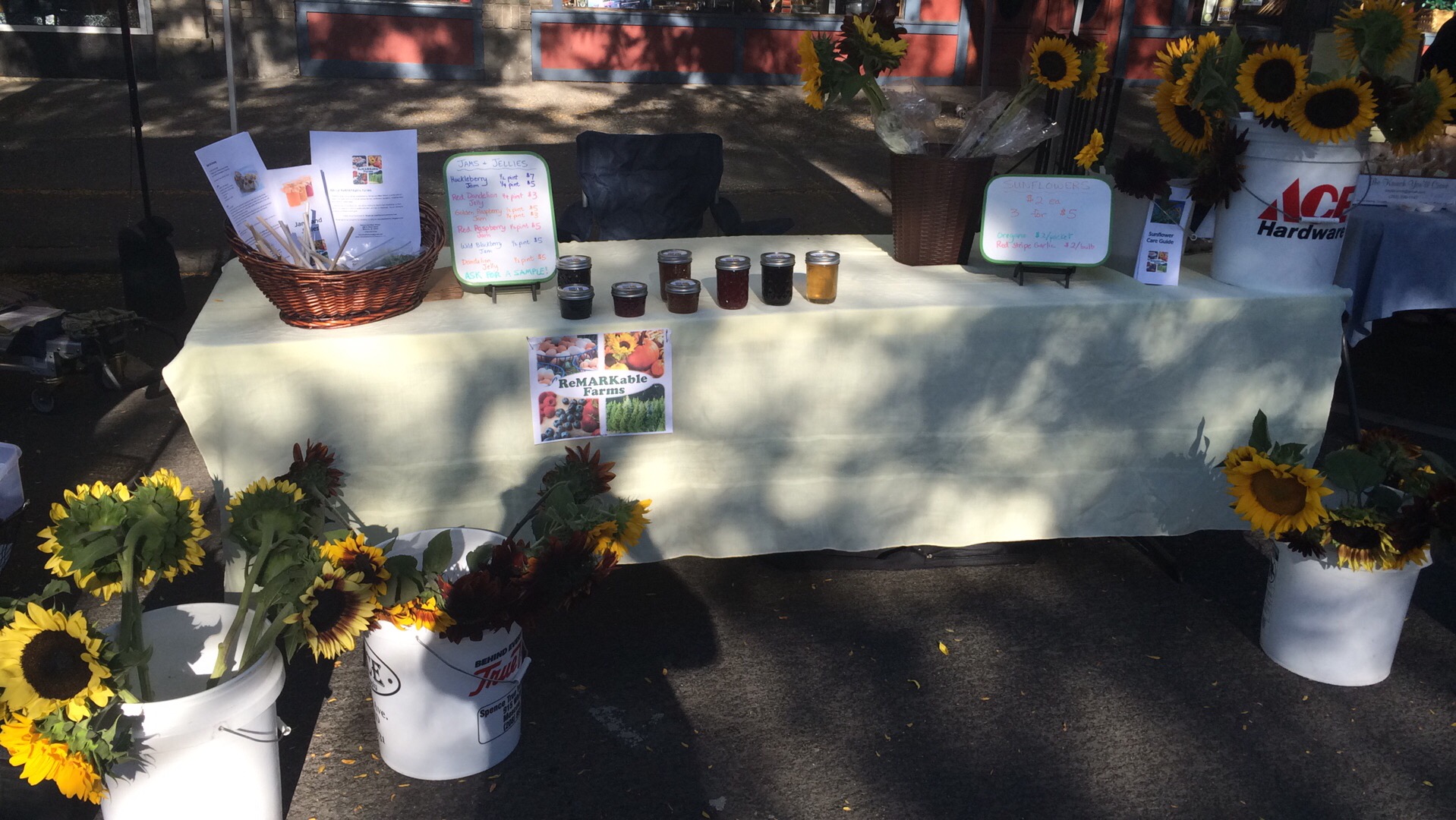 January 2016 Started looking for home with acreage and working on a business plan; registered Remarkable Farms as a Limited Liability Company
July 14, 2017 Bought home right outside of Moscow with a little over 4 acres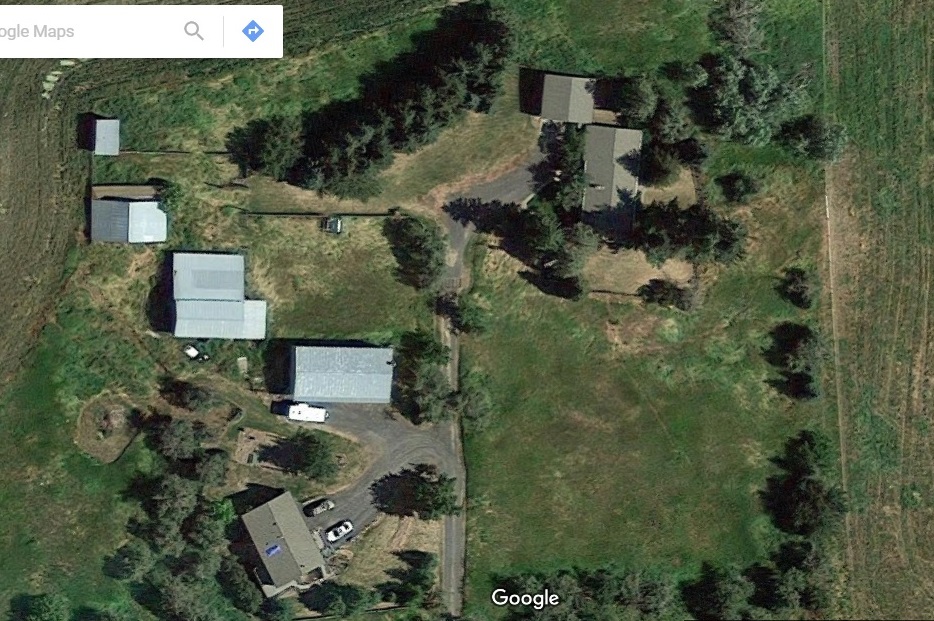 January 11, 2019 Mark turned 18 and we begin the process of applying for funds from Vocational Rehabilitation (VocRehab)to help with starting ReMARKable Eggs
March 20, 2019 Posted ReMARKable Farms/Eggs website
April 2, 2019 Mark was been determined eligible for VocRehab services! Now, we will begin putting together his employment plan.
June 7, 2019 Mark finished school at Moscow High School.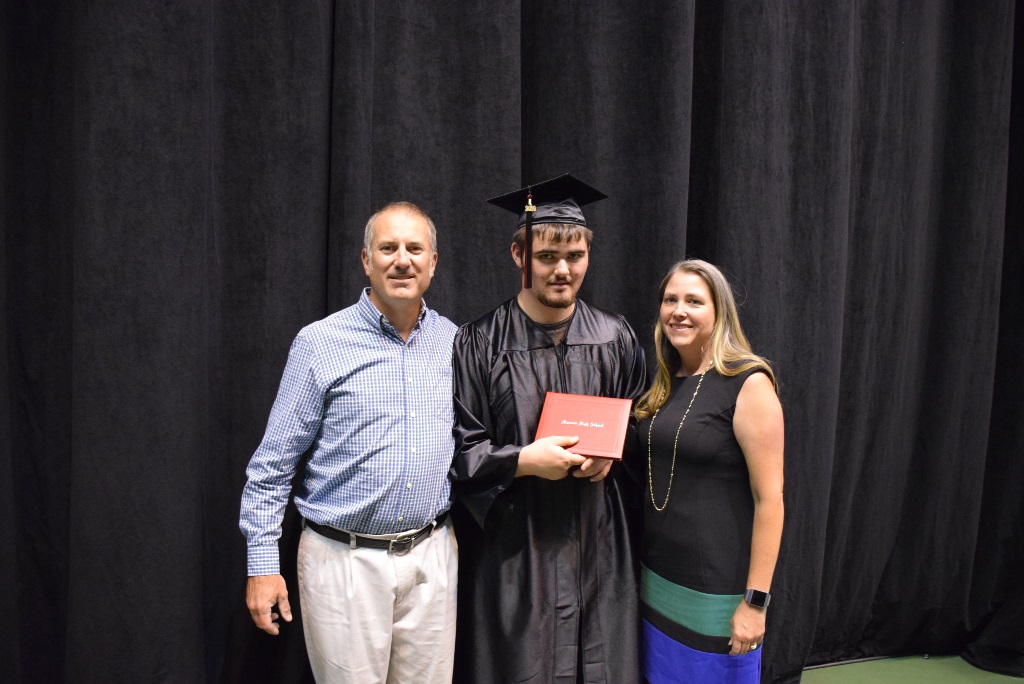 August 4, 2019 Got 2 livestock guardian dogs to help guard the poultry!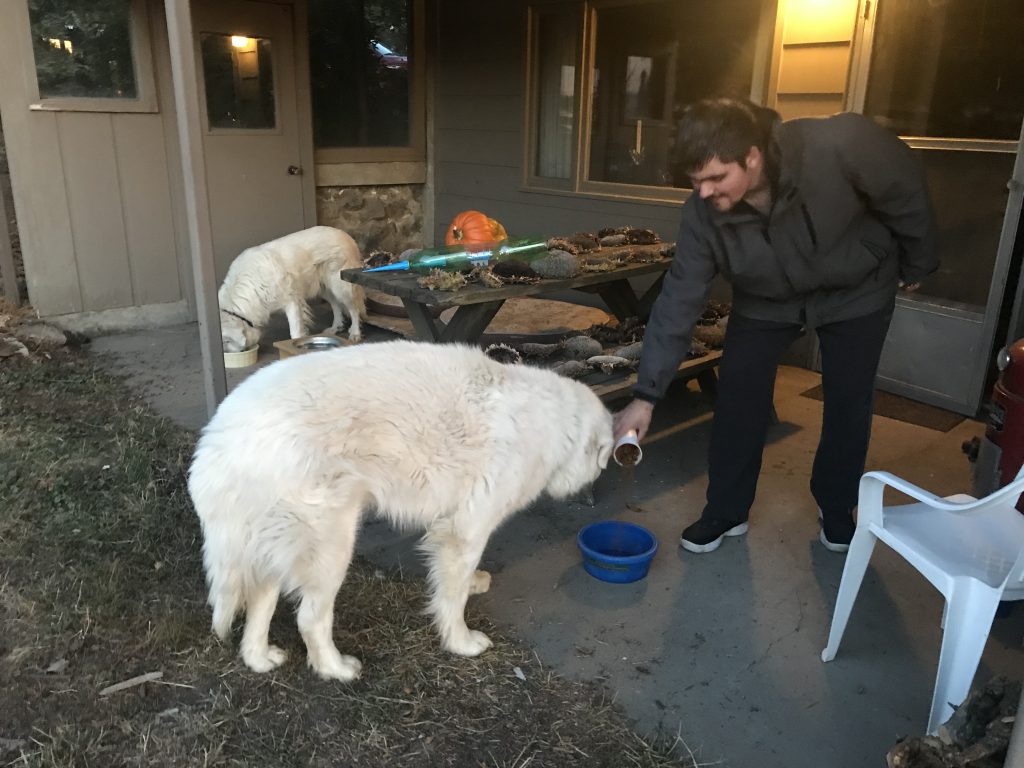 November 4, 2019 Baby ducks and chicks arrive on the farm!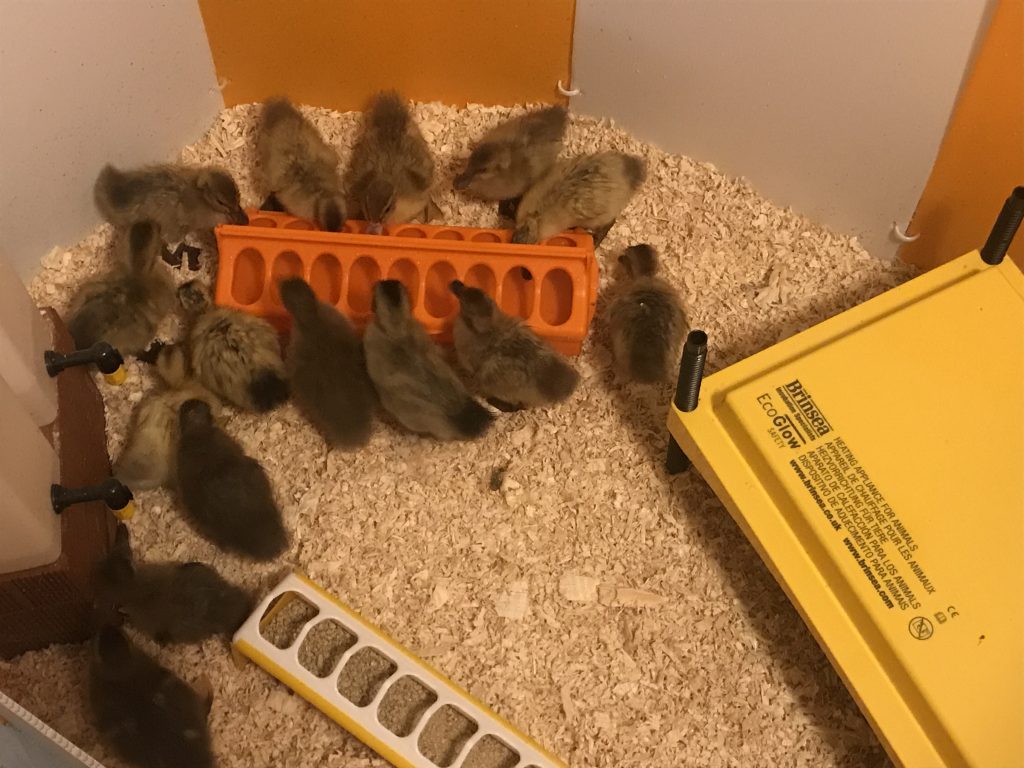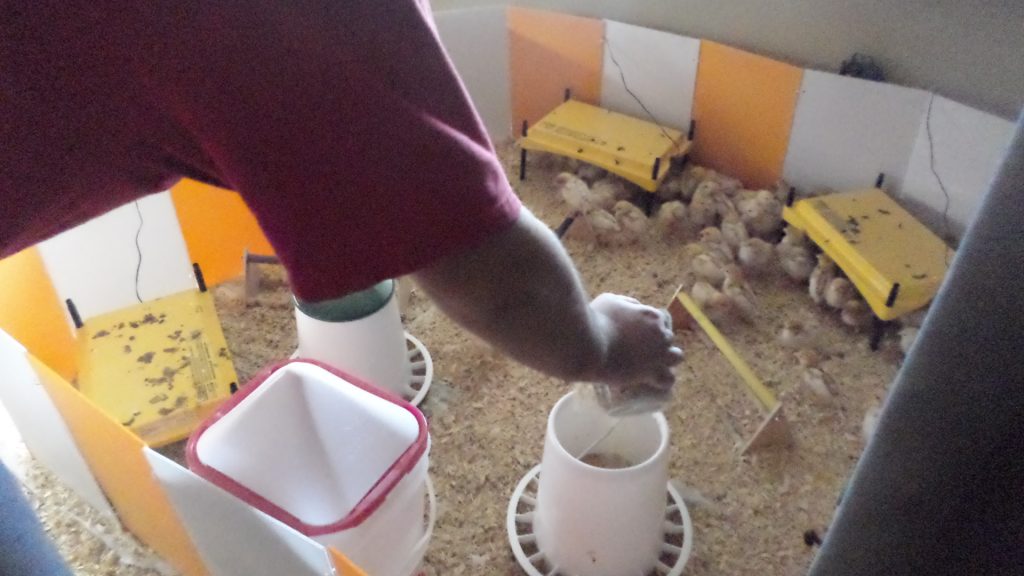 December 2019 – Ducks and chicks are moved to the "barn" because coops are not built yet.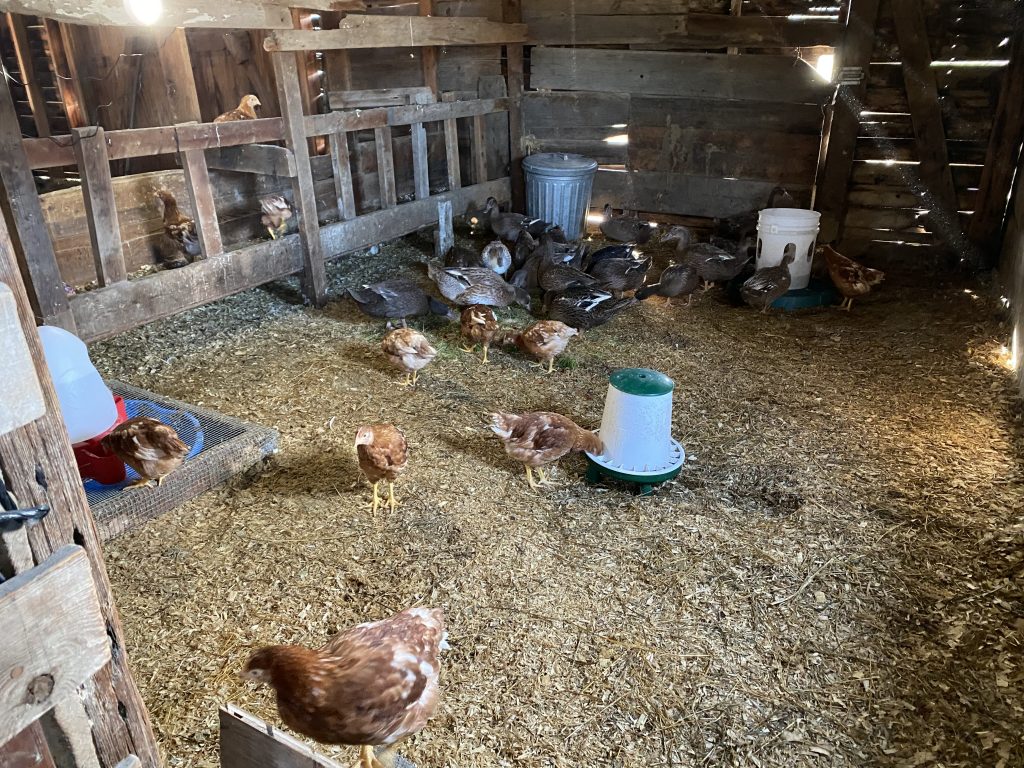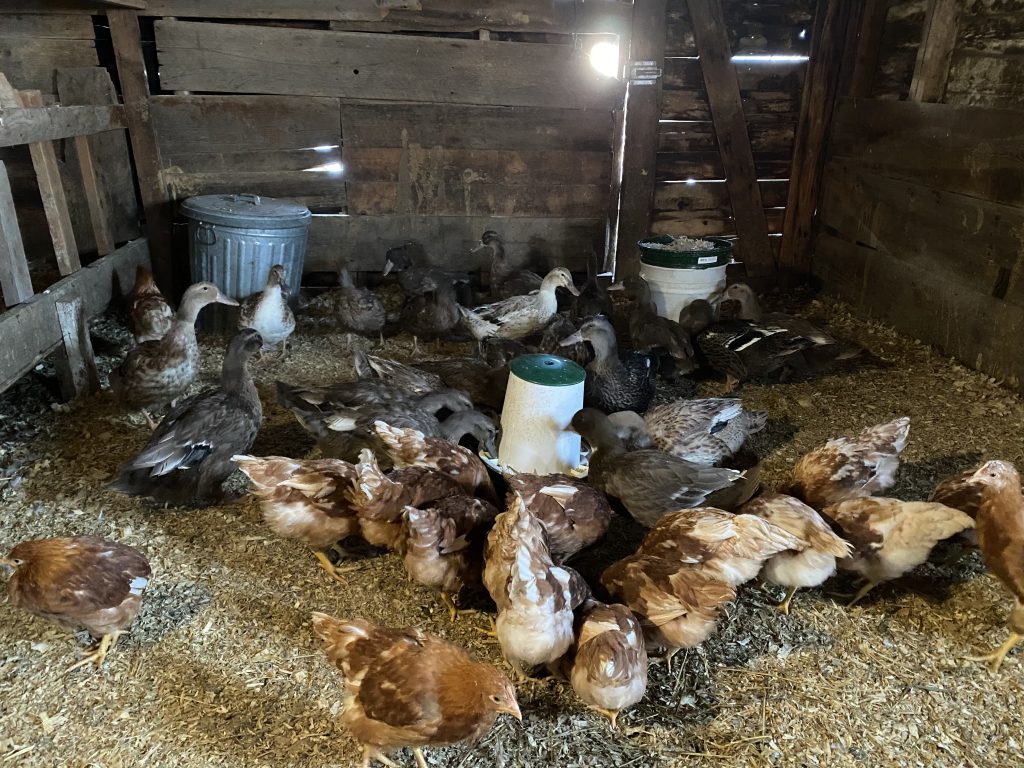 March 2020 – The first eggs!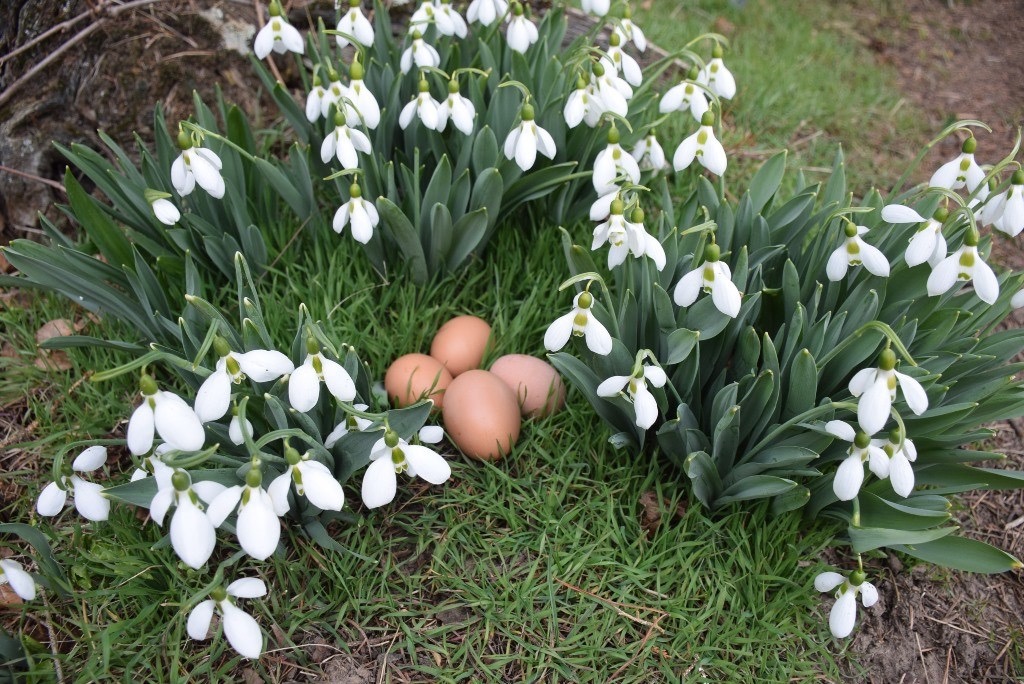 April 2020 – The girls get to go out on pasture!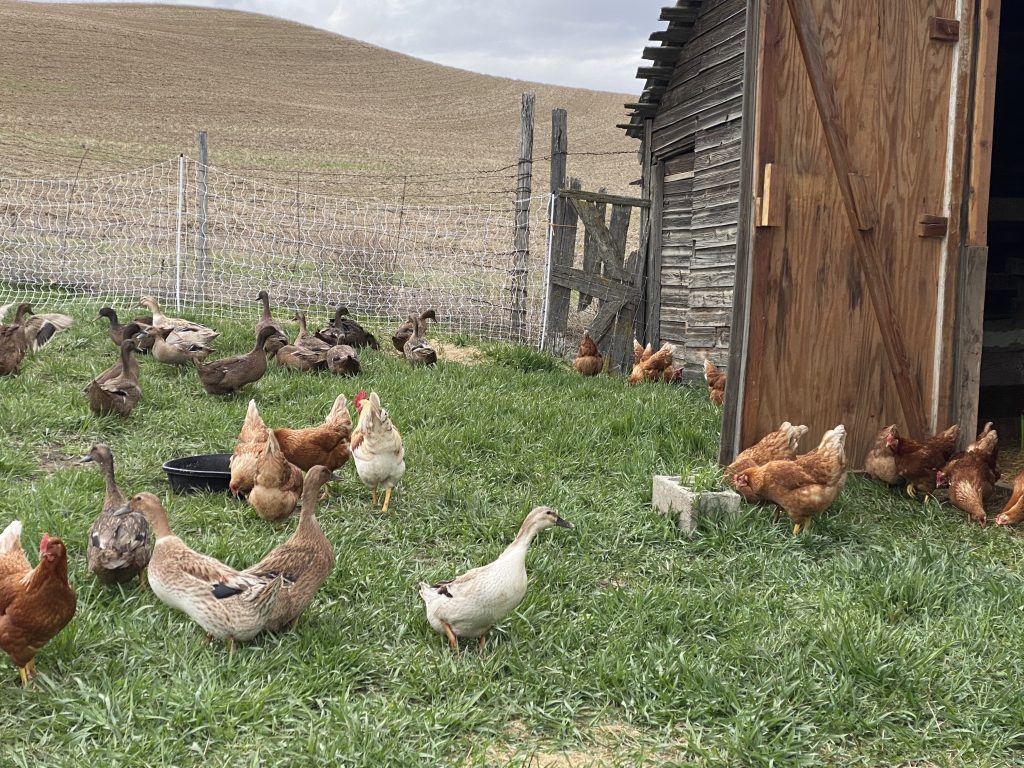 April 2020 – Concrete is poured for the foundation of the coops and building starts on the duck coop.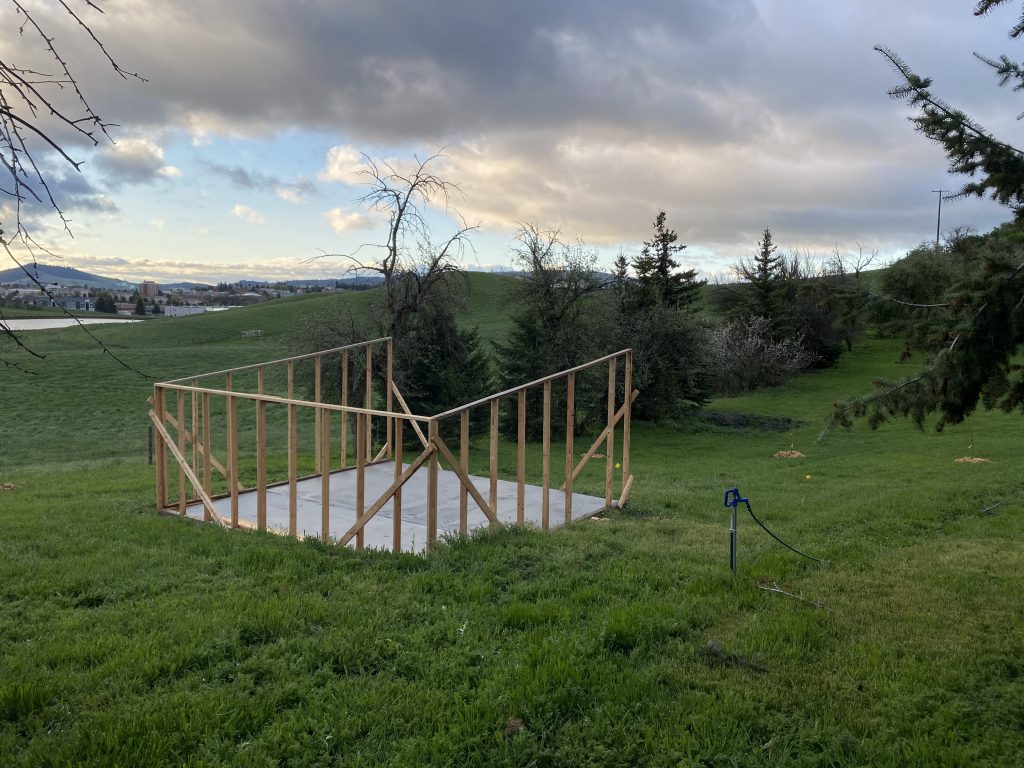 May 2020 – Eggs for sale through a Moscow delivery route and the Moscow Farmers Market Motor-In!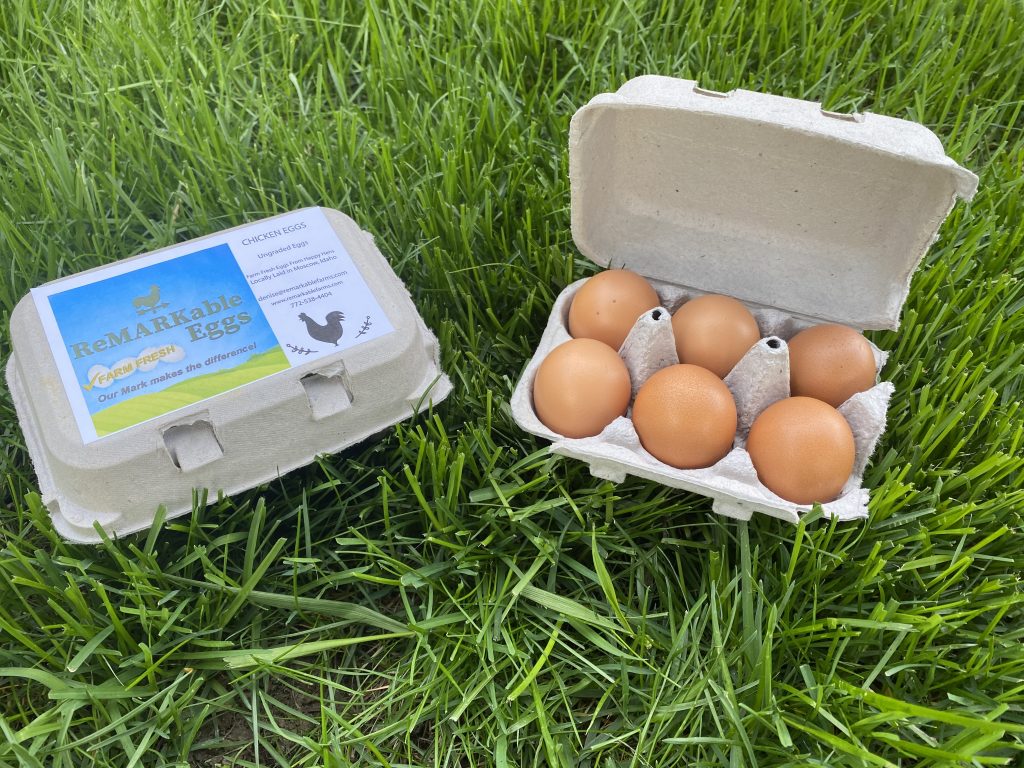 June 2020 – Mark's new favorite activity is watering the ducks!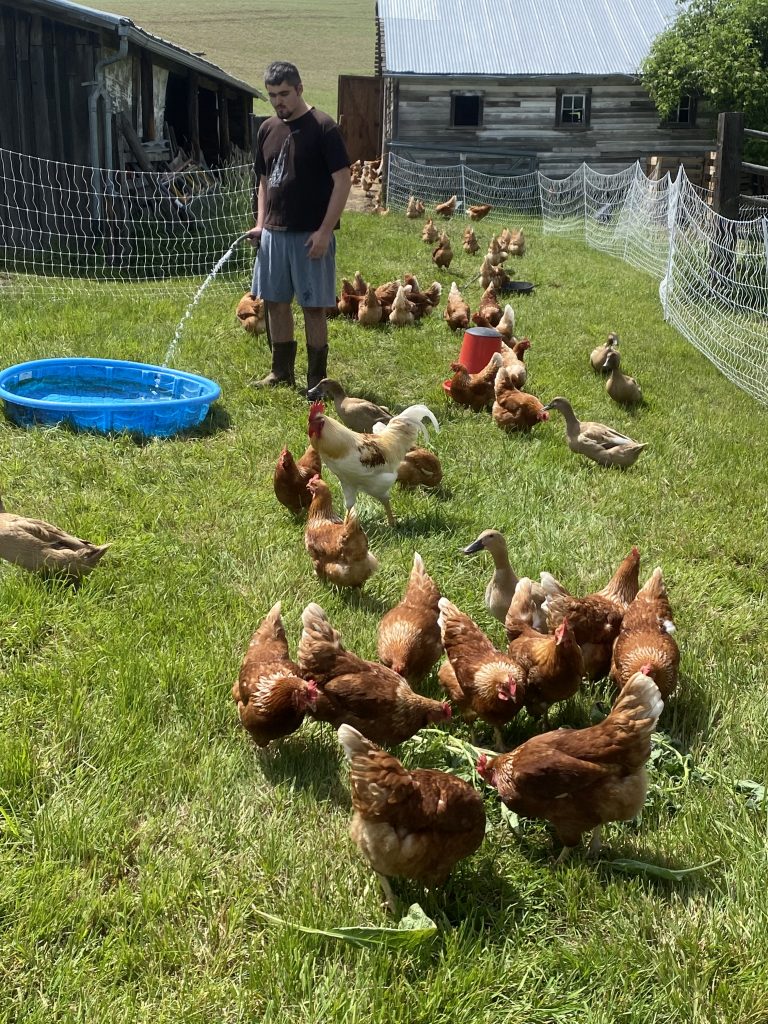 Learning to pack eggs…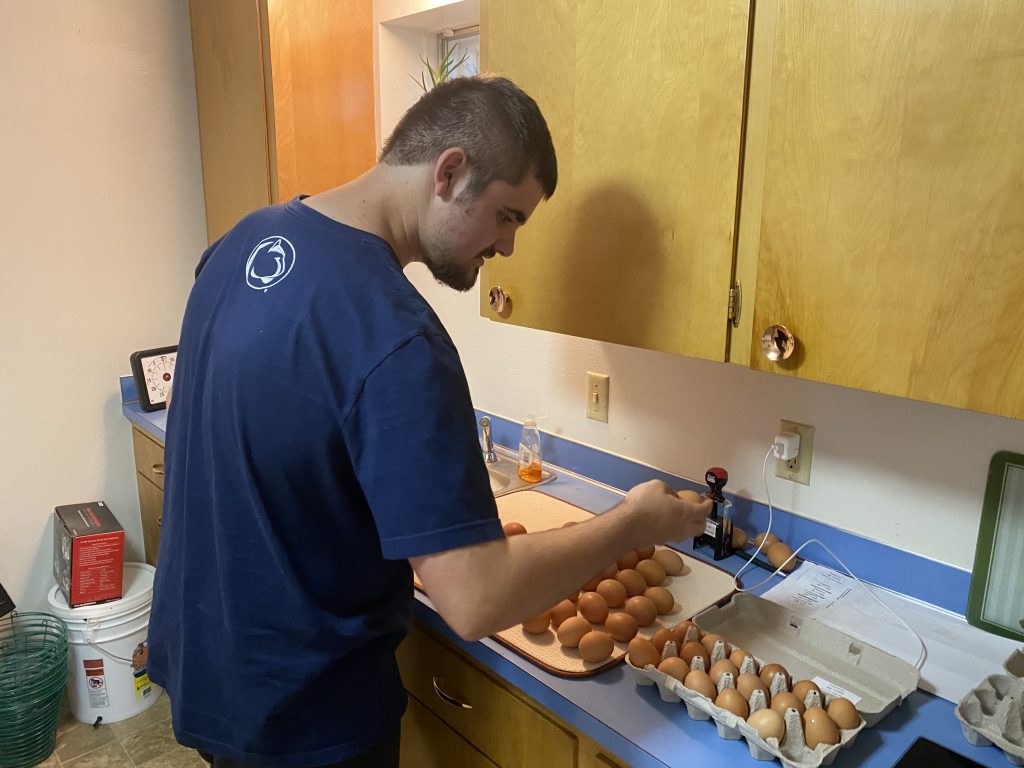 August 2020 – The girls love comfrey and other treats from the garden!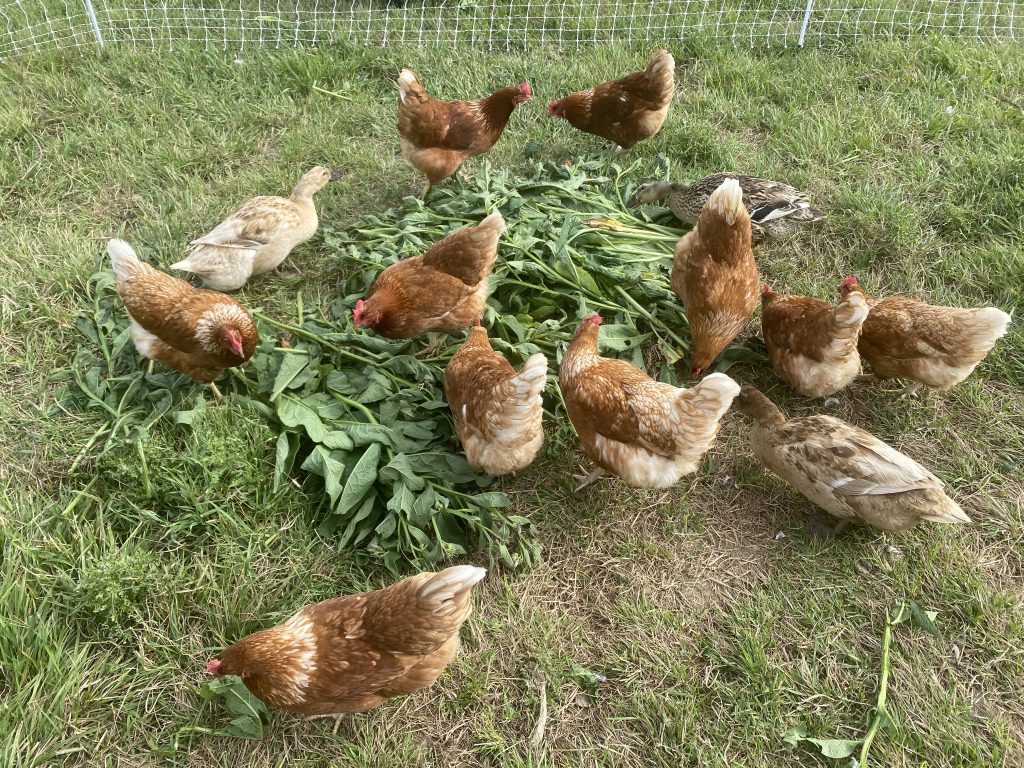 September 2020 – Molting season begins…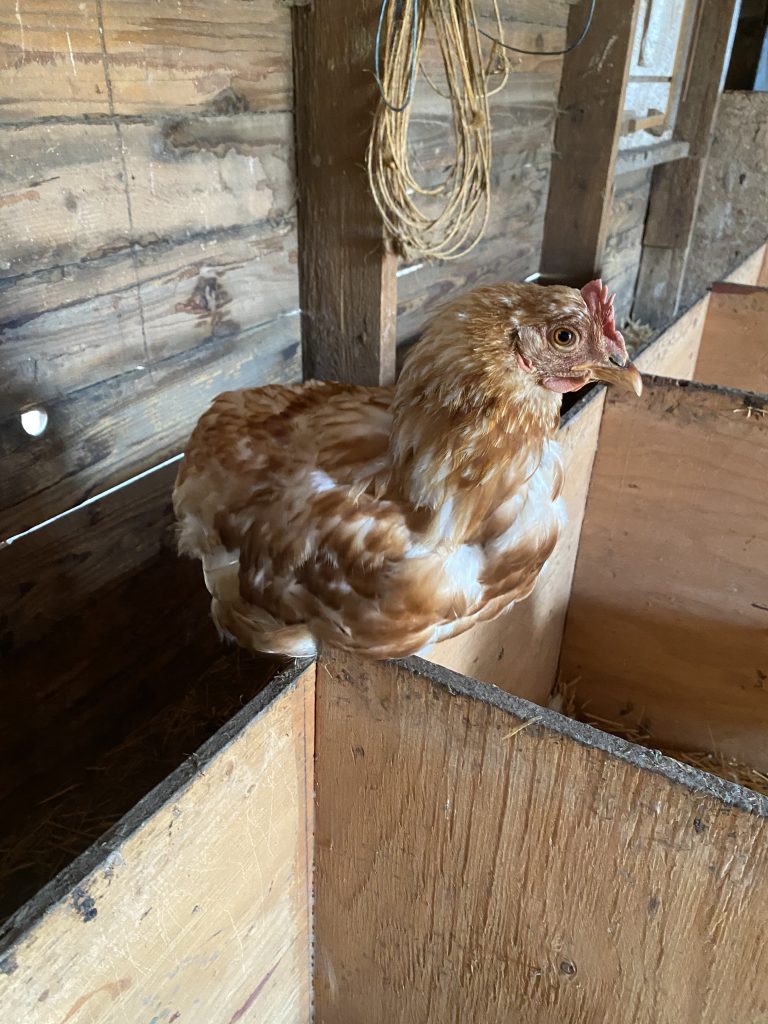 October 2020 – The duck coop is nearing completion…still need to get the run put on…
November 2020 – A raccoon finds a way into the barn and ends up killing 7 chickens before we find the hole!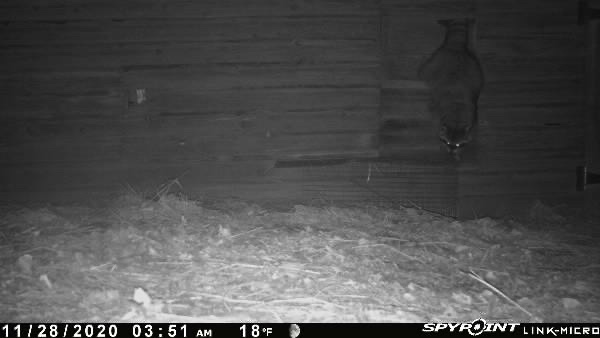 December 2020 – Had to put our dog Cooper down because he was having back problems.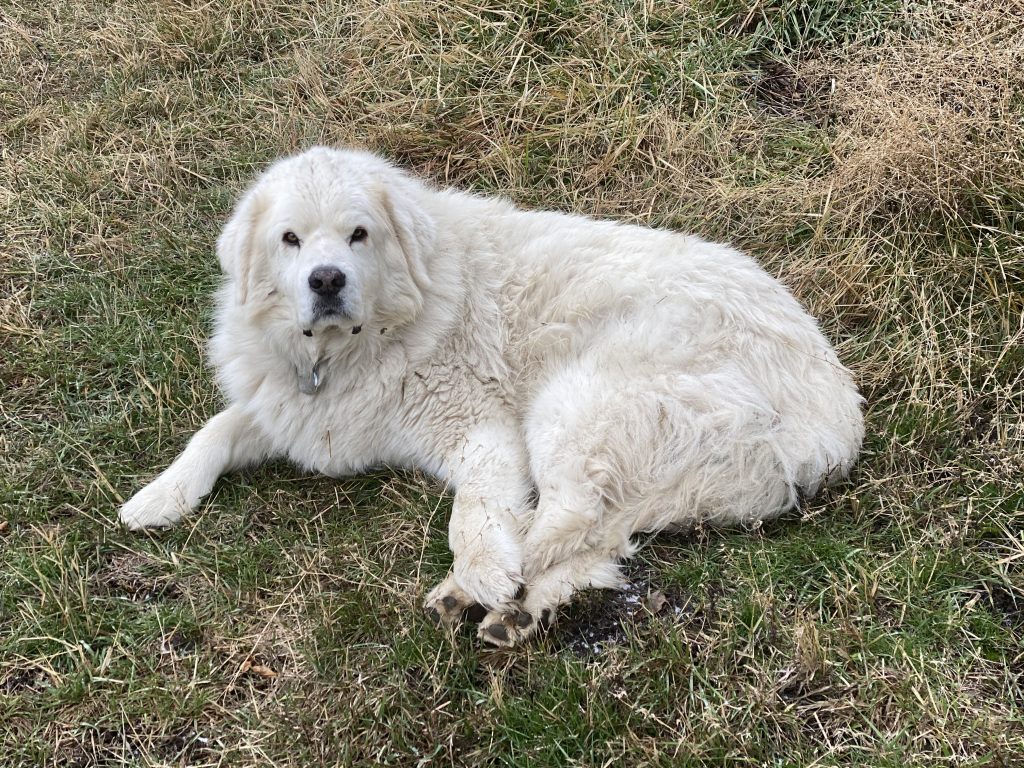 December 2020 – Got more ducklings and chicks!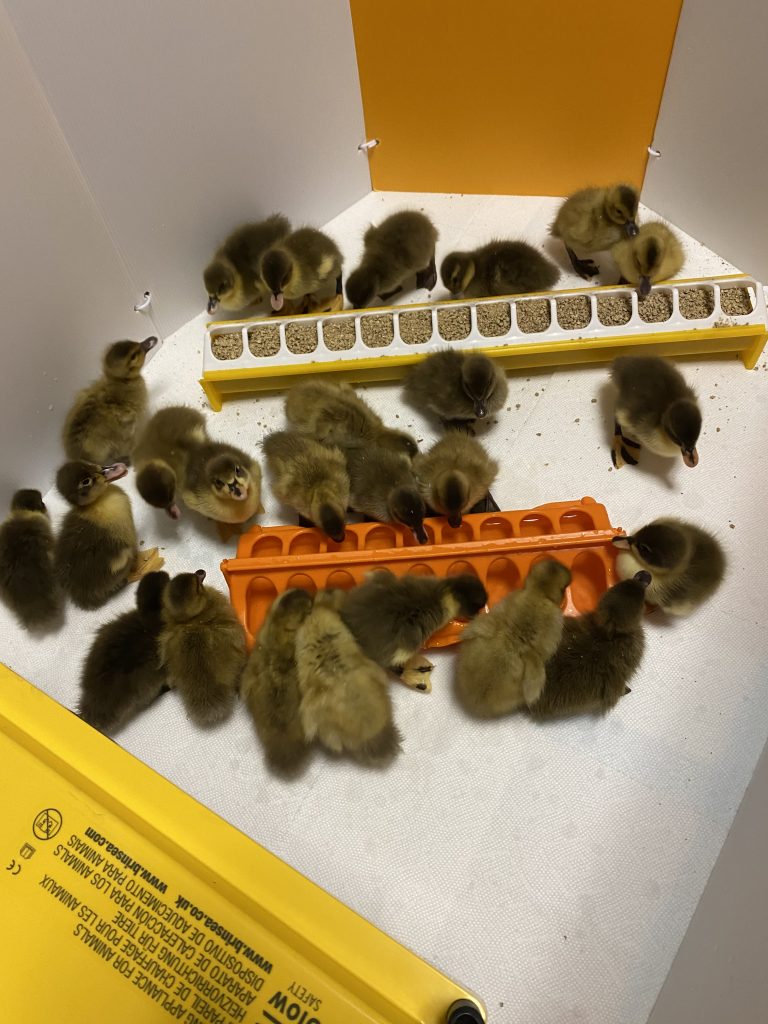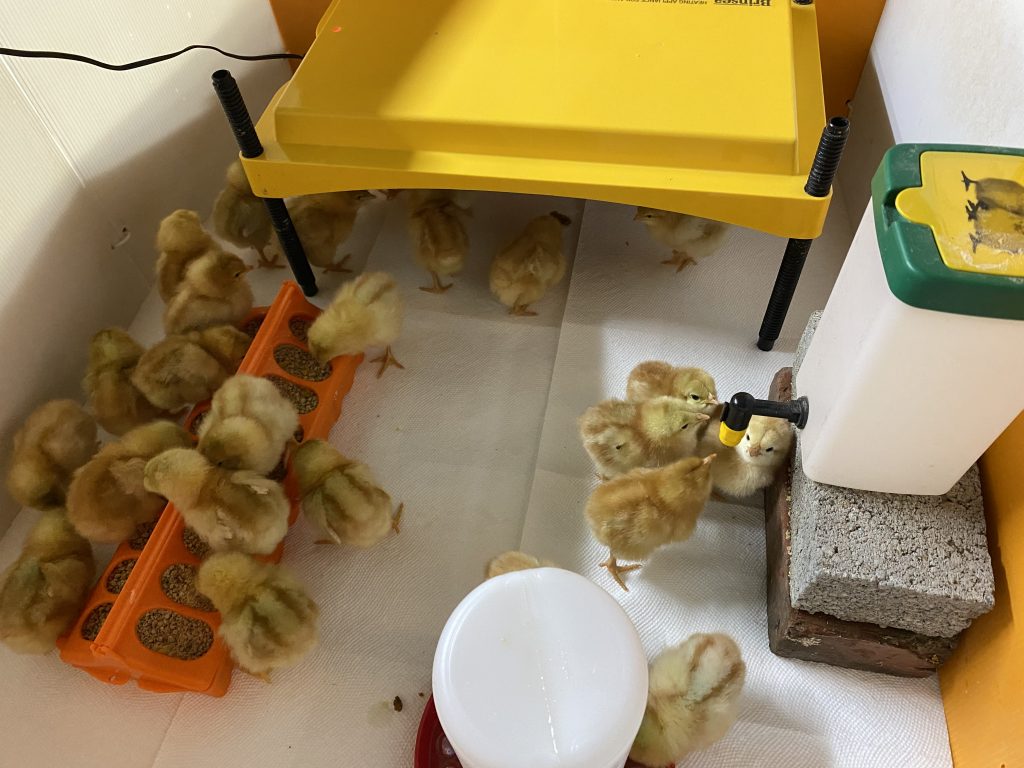 Also, got a new livestock guardian dog to replace Cooper. This dogs name is Benjamin and he came from the western side of Washington state.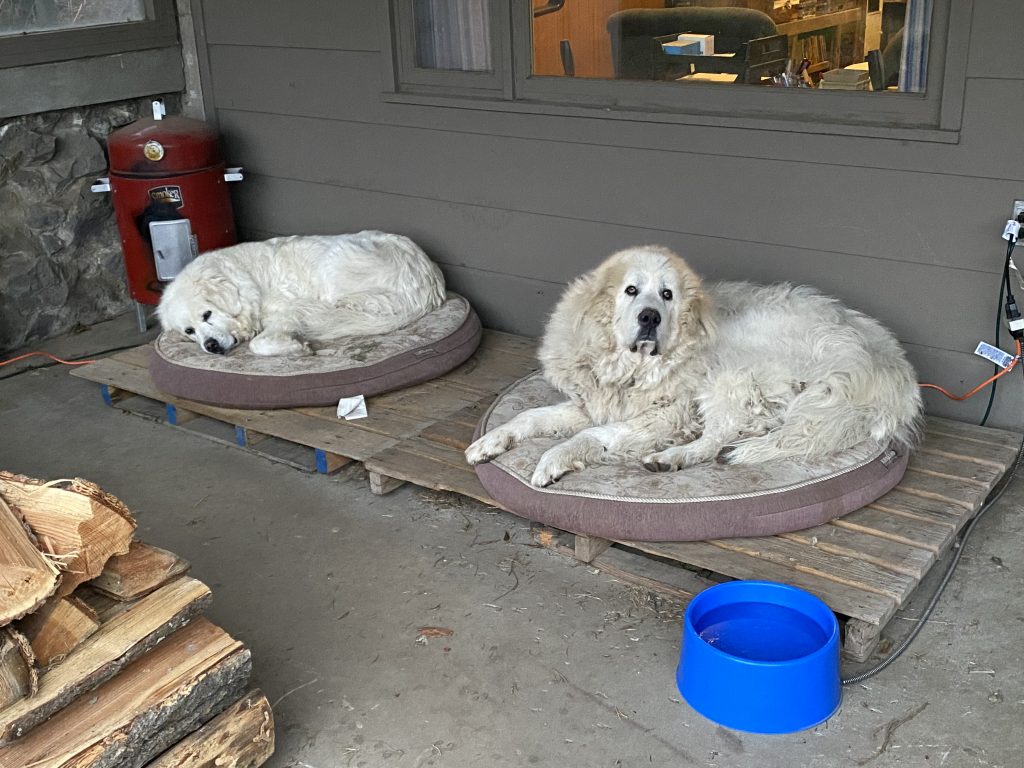 Set up a fodder system to grow fresh greens for the girls during the winter.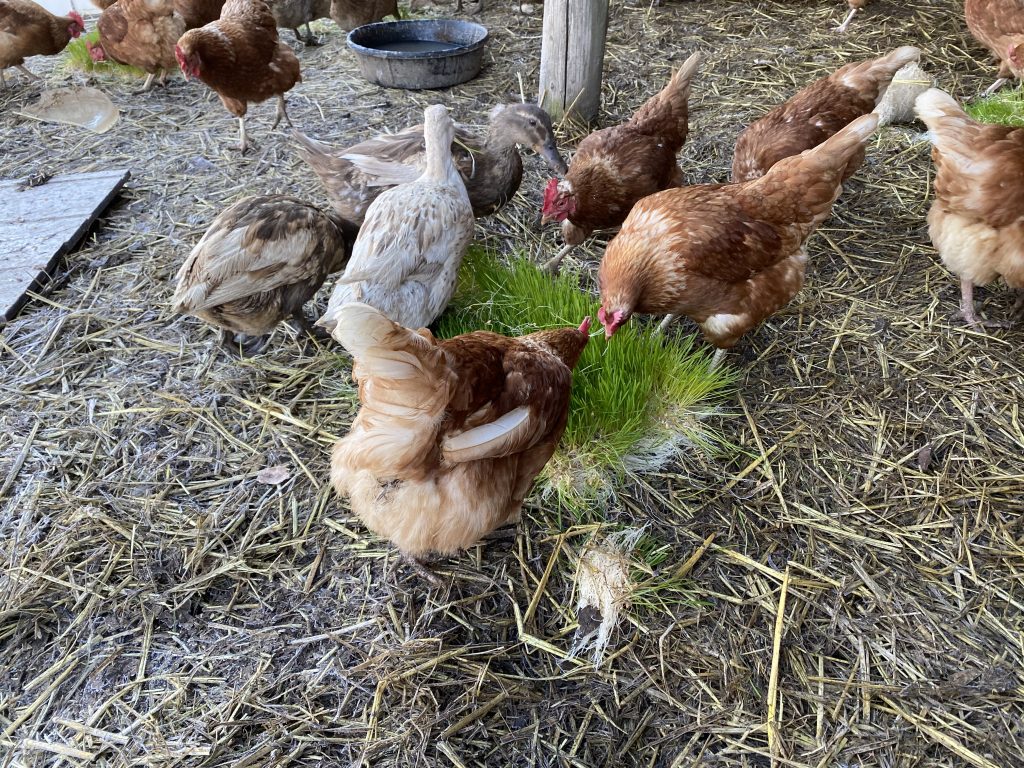 January 2021 – Duck coop was completed and the new ducks and chicks were moved out to the coop.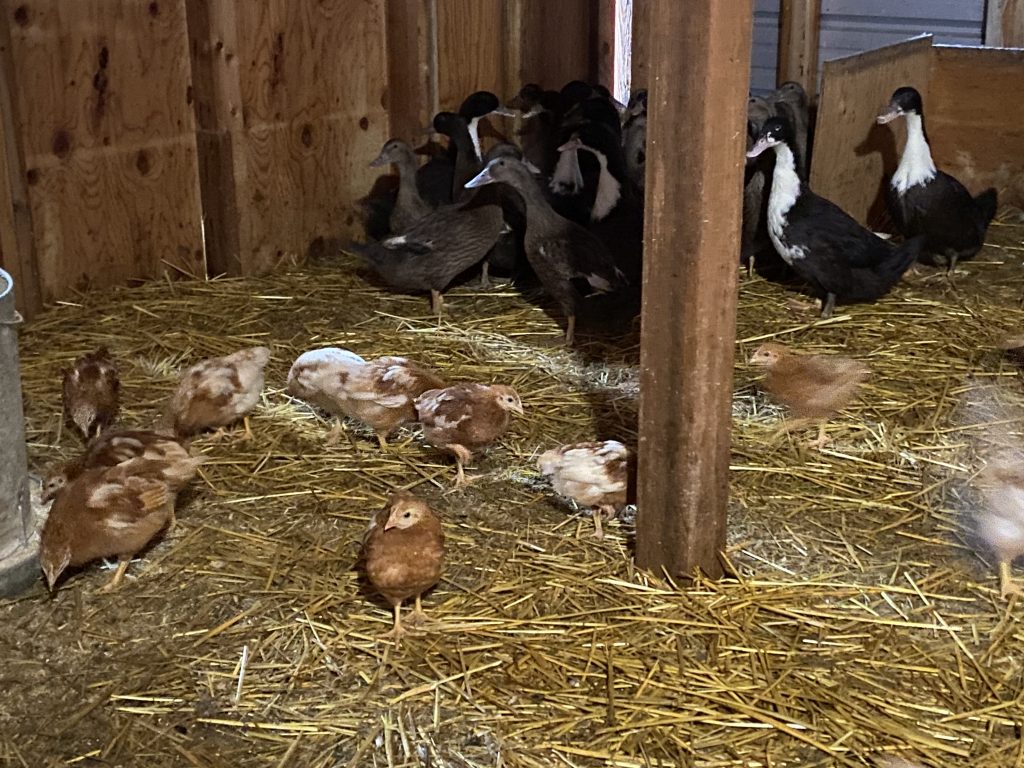 April 2021 – The older ducks get moved to the duck coop with the younger ducks and the young chicks move out to the barn with the older chickens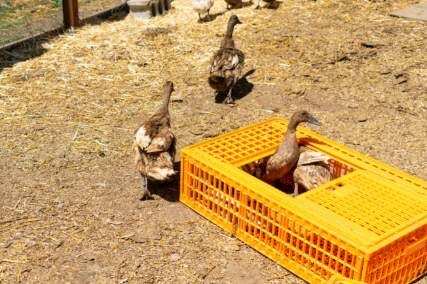 May 2021 – ReMARKable Eggs makes their debut at the Moscow Farmers Market!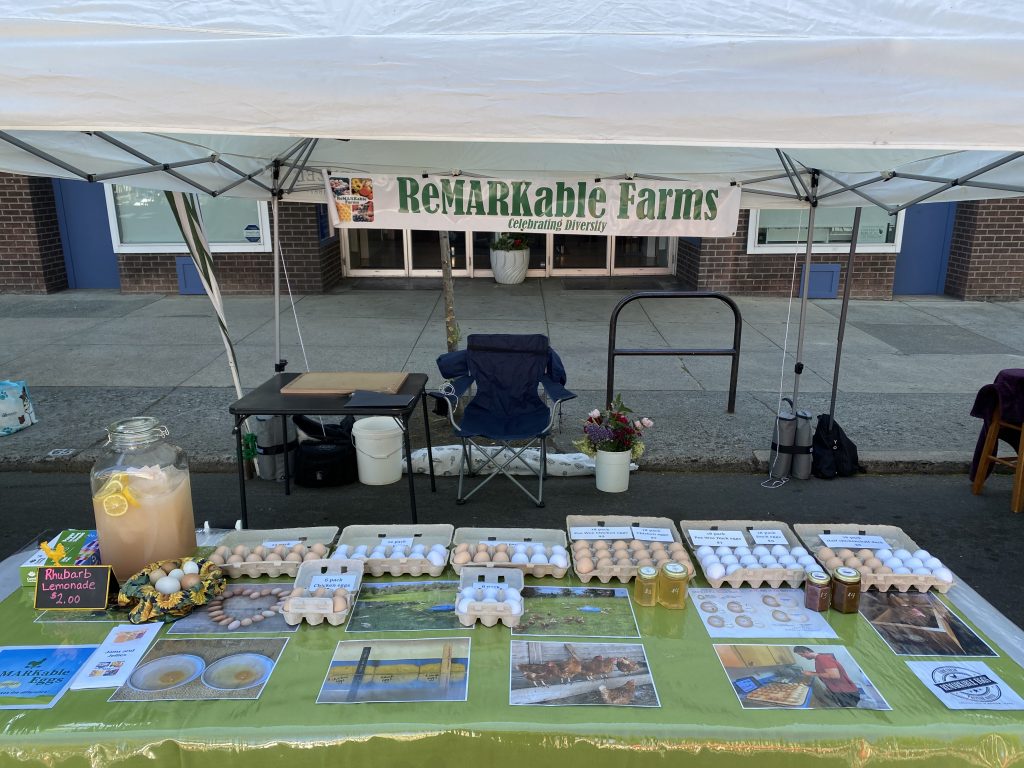 Duck eggs are also available for sale at the Moscow Food Co-op!
October 2021 – Purchased some 10 month old Rhode Island Red chickens to help with egg production during the winter months.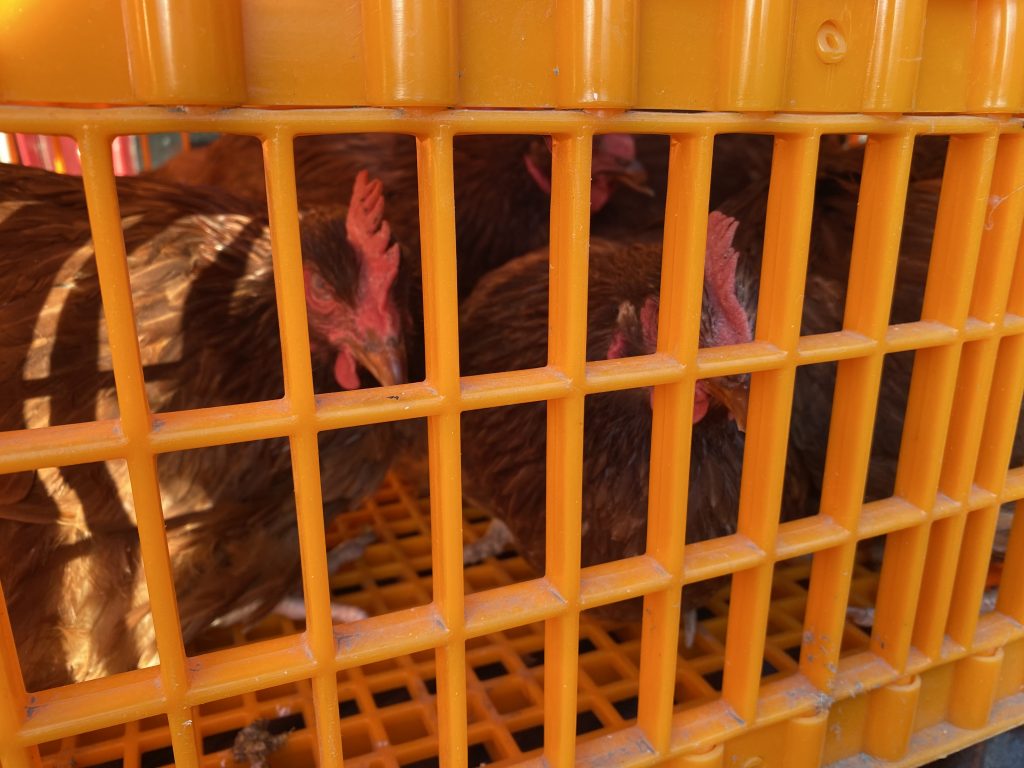 Also, purchased some young Khaki Campbell ducks and a drake to use for breeding in the spring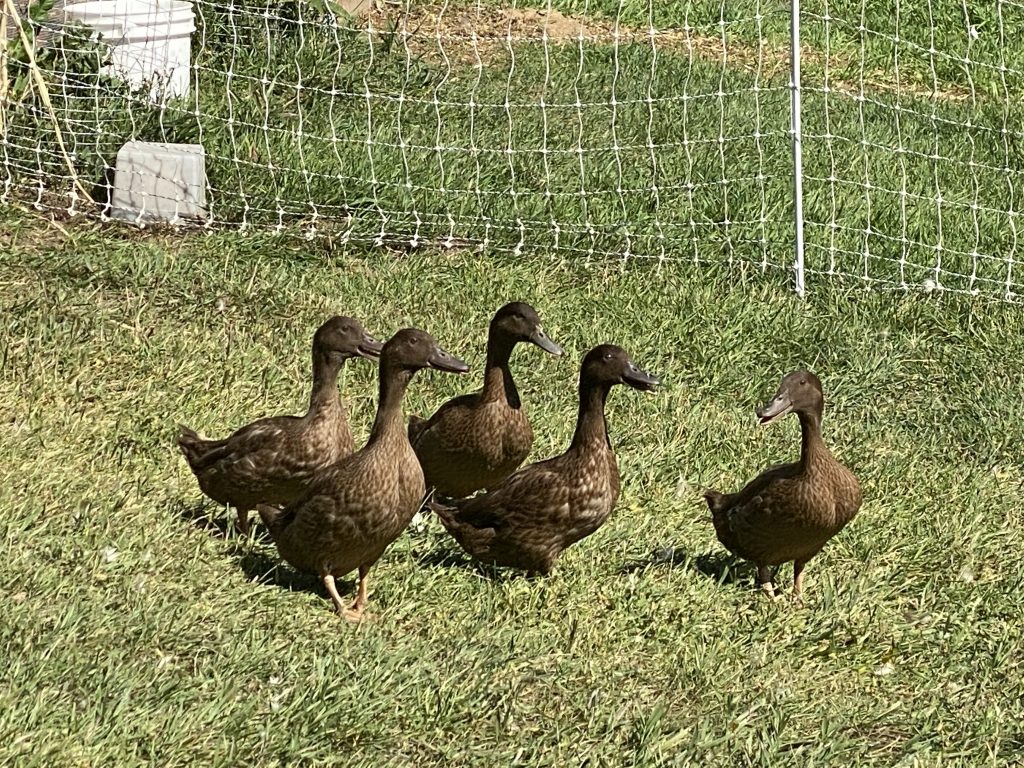 November 2021 – The chicken coop is close to being finished. It is actually 2 coops…an east coop and a west coop connected by a storage area in the middle.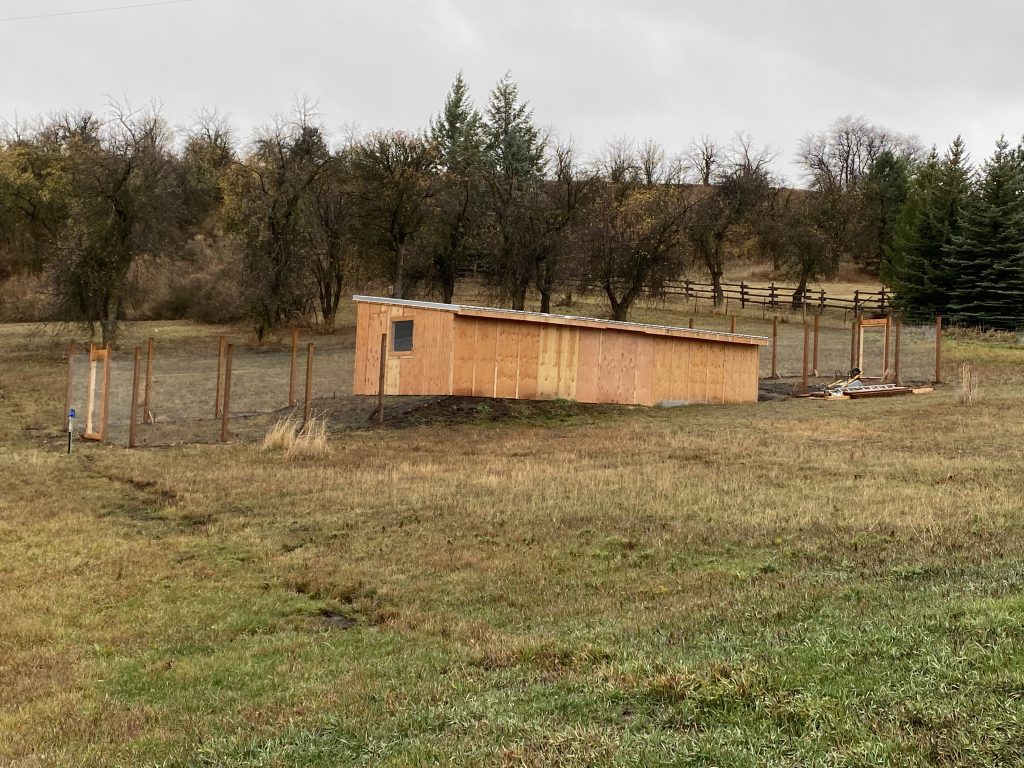 Bought 75 Novogen chicks to go into the new coop!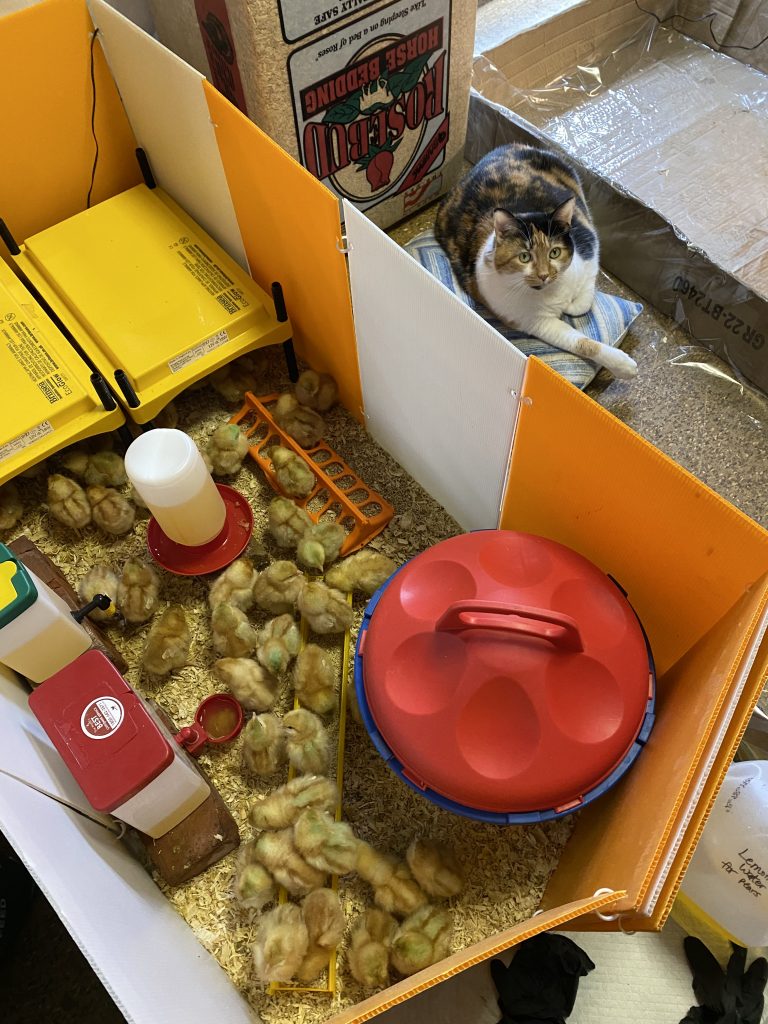 Lots of snow in winter 2021 going into 2022…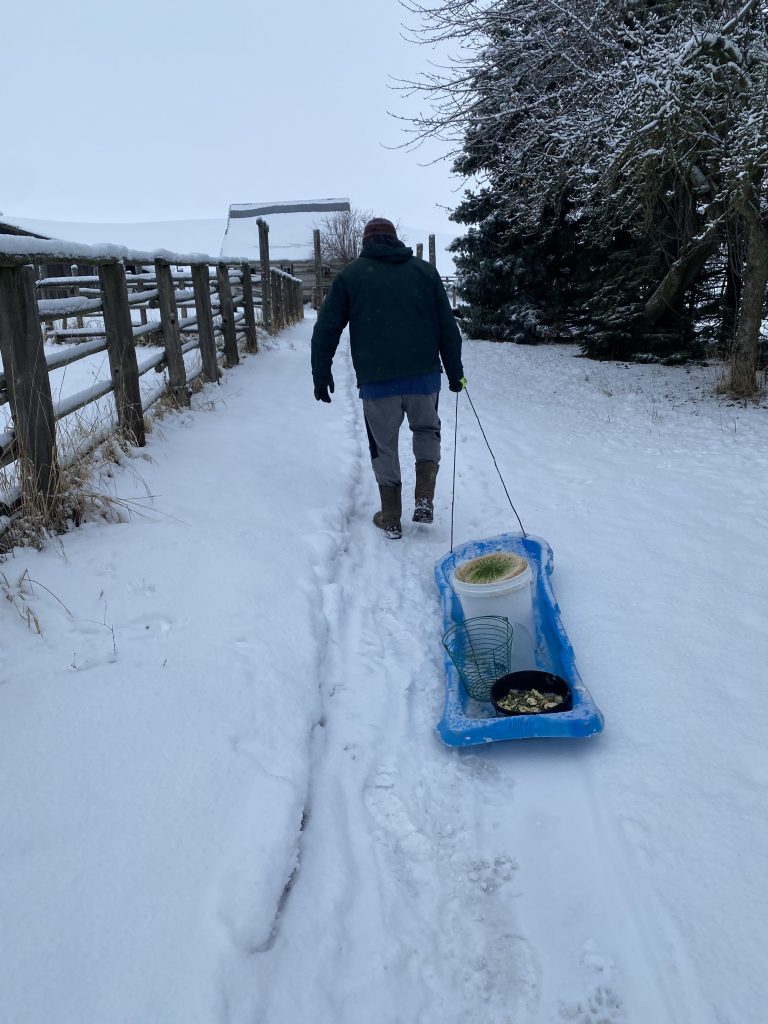 January 2022 – Novagen pullets in the east side of the new coop!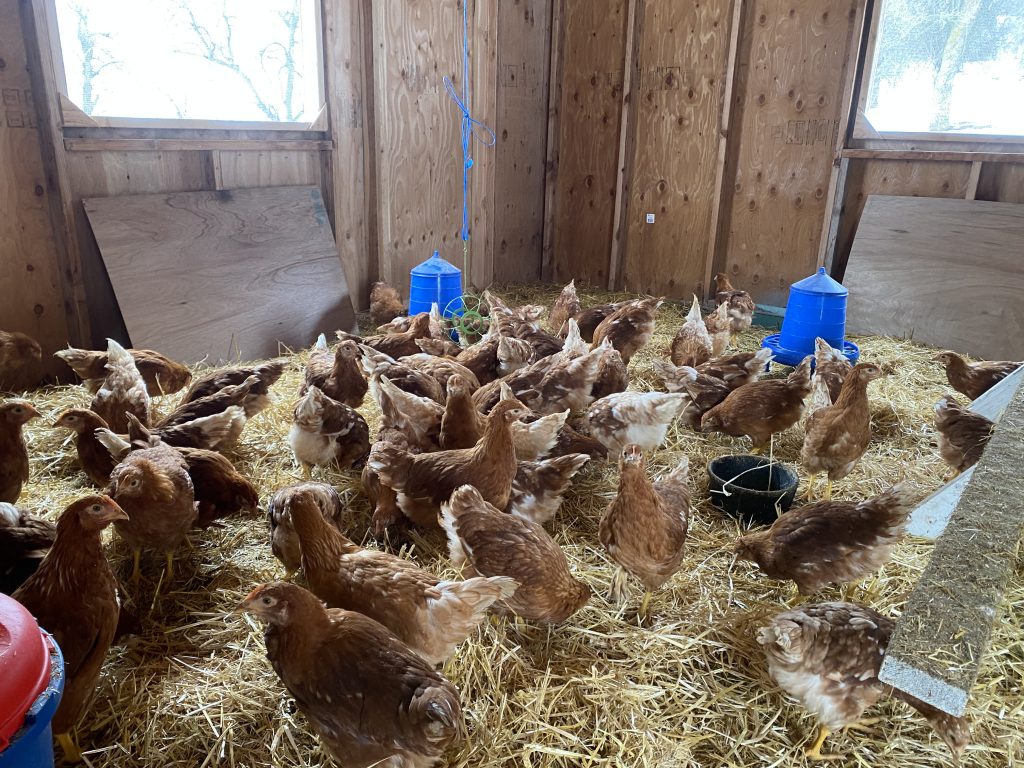 May 2022 – moved the older hens from the old chicken barn to the west side of the double chicken coop
Needed to get a few new chickens to replace the oldest hens so we decided to try a new breed, they are called ColorPack and they lay blue and green eggs!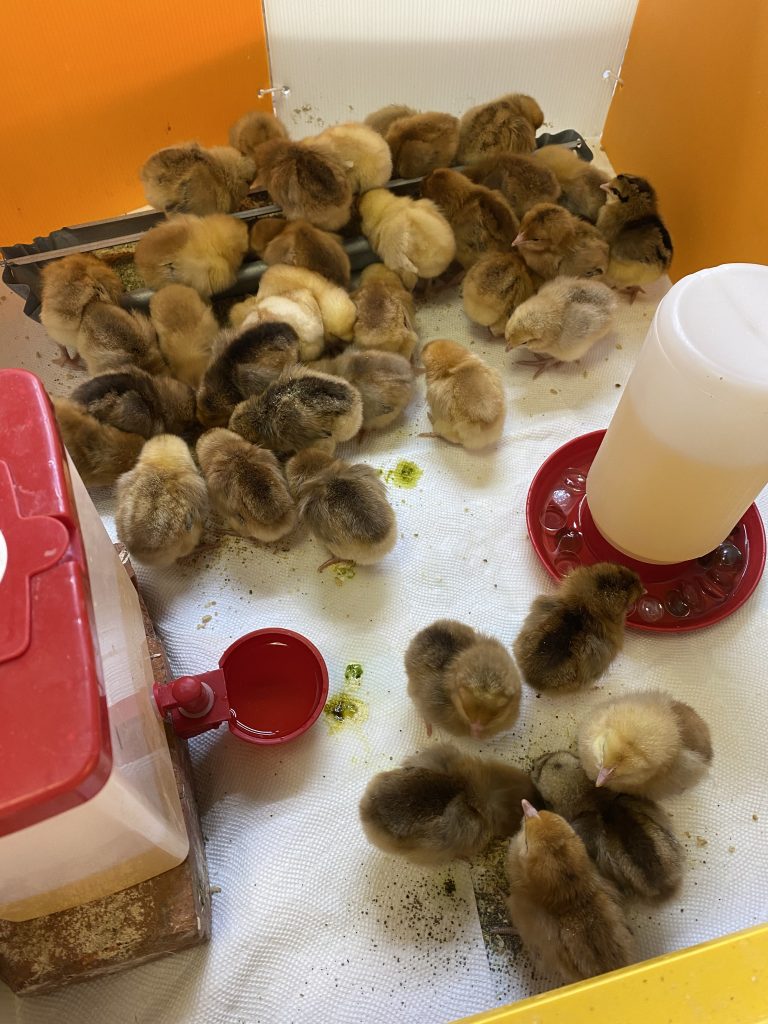 Got the paddock system set up around the new coops and runs…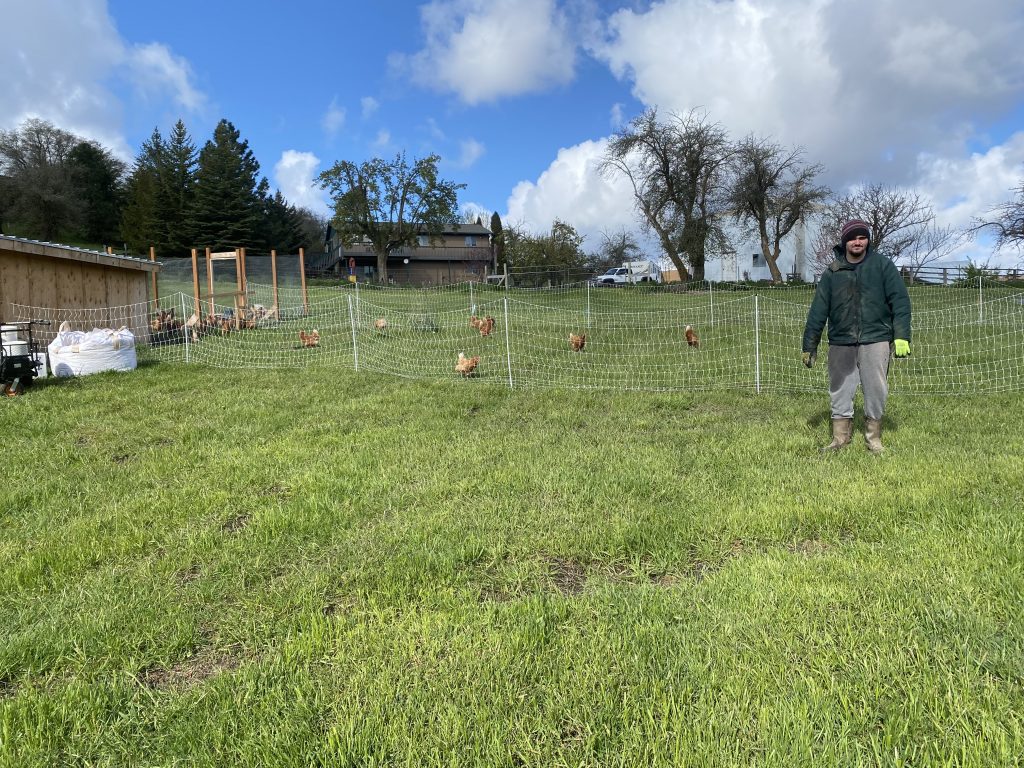 August 2022 – making another change to the duck breeding program…decided to try Welsh Harlequin ducks…got an adult duck and drake and then ordered 5 ducklings (one died so we have 4 now)…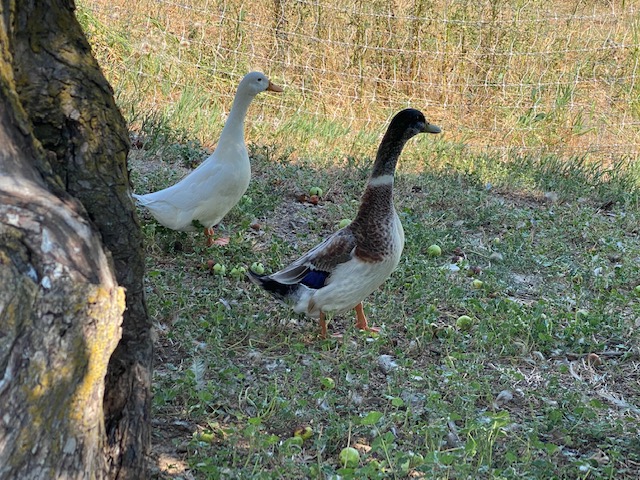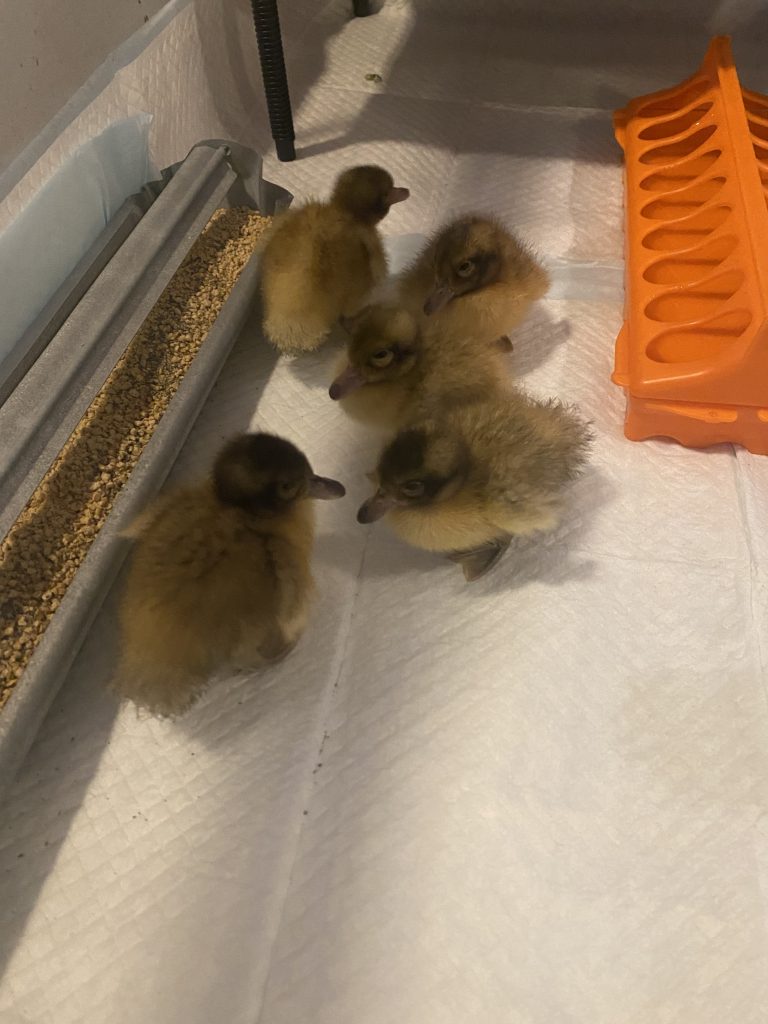 October 2022 – processed some of Mark's very first hens…invited several people to come and learn how to process chickens. Everyone got to take home some stew hens! We really appreciated their service!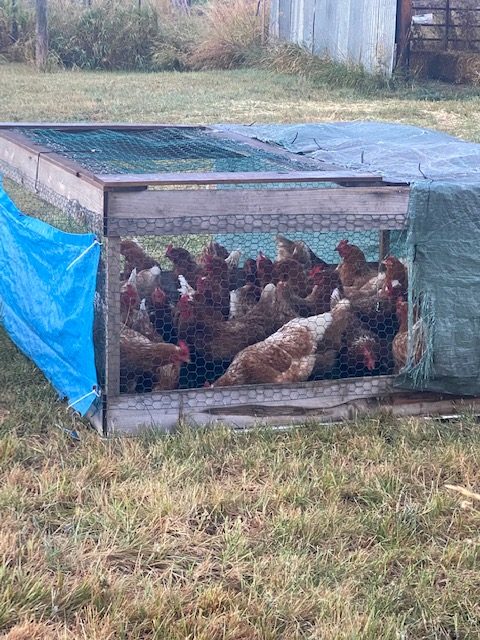 Did a jack-o-lantern challenge with the chickens and they did pretty good!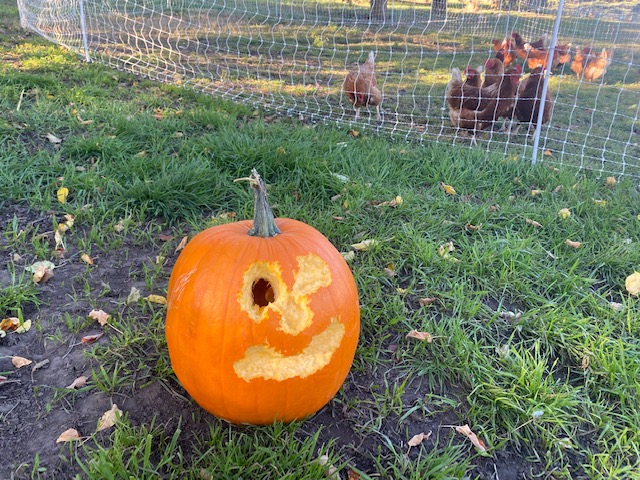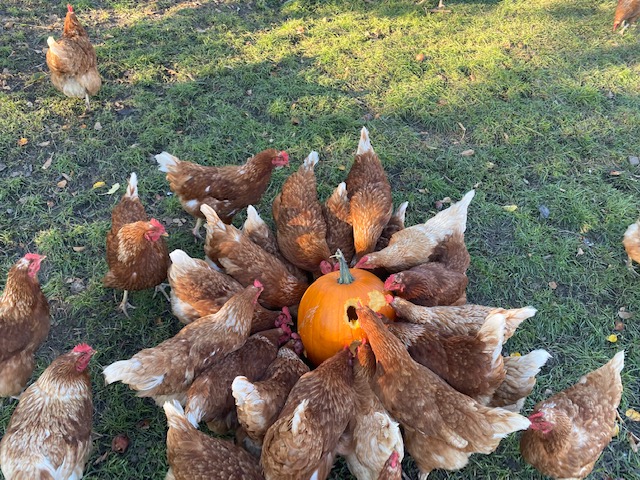 November 2022 – Benjamin had to be put down so we got a new dog and his name is Allen. He is only a year old so we will (hopefully) have him around for a while…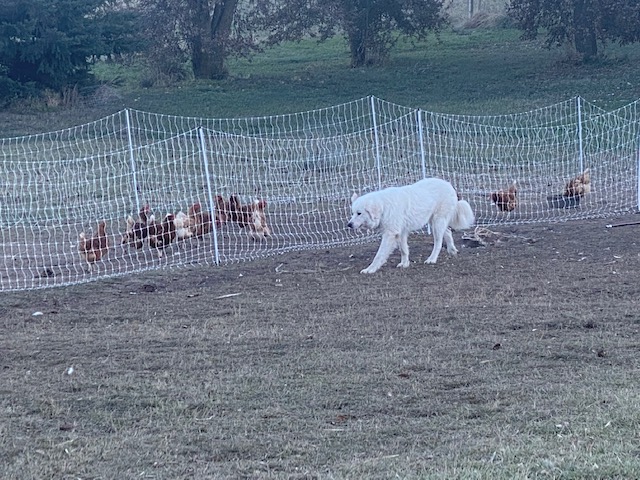 December 2022 – Mark has about 150 chickens and 50 ducks into production! Finally lots of eggs this winter for all the customers!